Previous News
---
A Jolly Sinister Jape
27 September 2020
Following the great success of our Play on the Radio festival, Medway Little Theatre's company are in rehearsal for our first ever livestreamed performance.
A Jolly Sinister Jape by Elliot Strange is a comedy thriller set in the 1920s, featuring four characters trapped in a mysterious house during a storm. This play has been rehearsed, and will be performed live from the theatre, in a socially-distanced manner.
The three performances cost nothing to watch, and will be live on Friday 9th October at 7.30pm, and on Saturday 10th October at 3pm and 7.30pm.
This amateur production of 'A Jolly Sinister Jape' is presented by arrangement with Concord Theatricals Ltd. on behalf of Samuel French Ltd. www.concordtheatricals.co.uk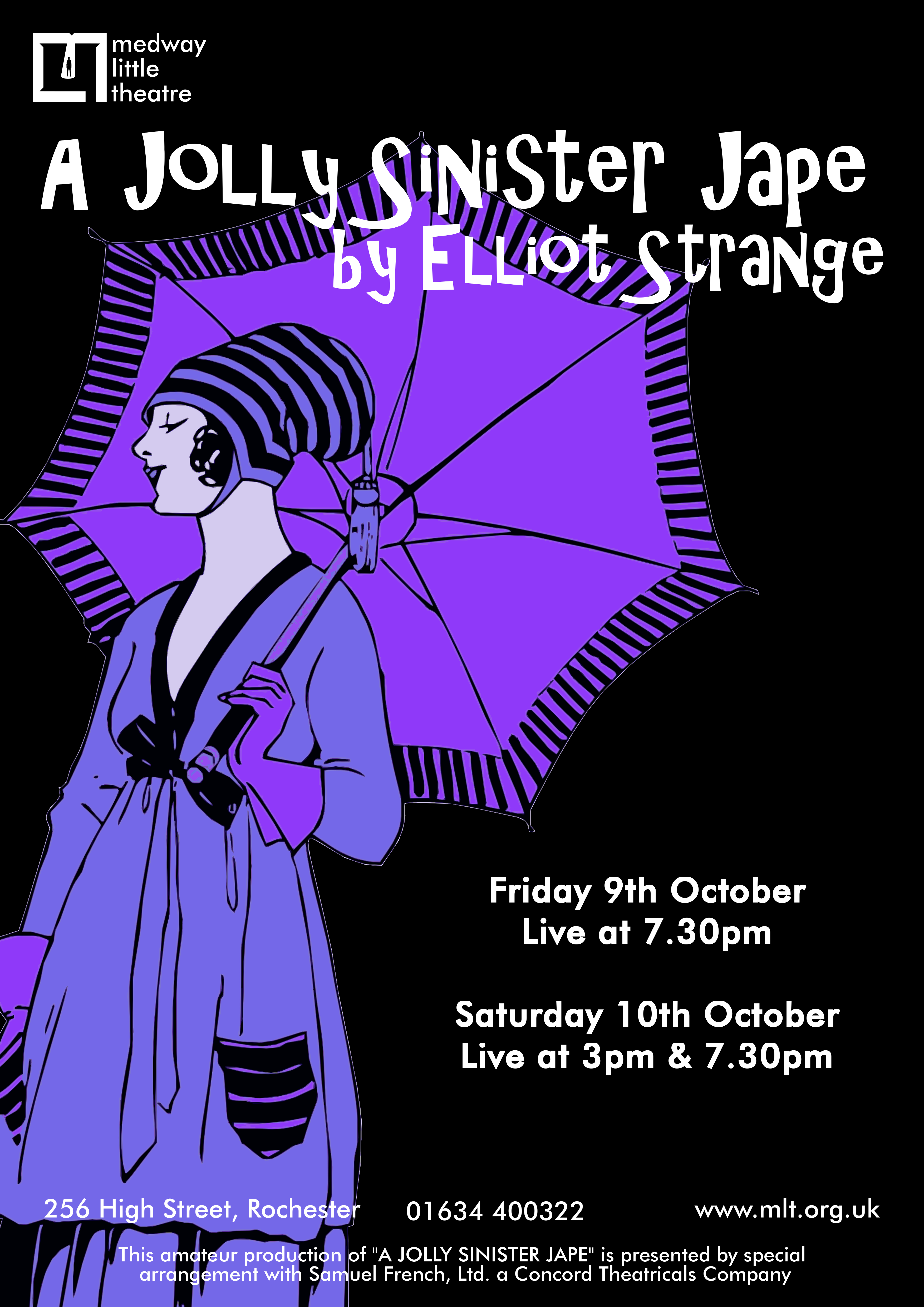 ---
A Message from the Chairman
8 July 2020
The latest MLT newsletter features a message from our chairman, Chris Loft, and news about the theatre's involvement and engagement with the Medway Cultural Strategy 2020-2030 discussions.
---
Now Booking: When the Wind Blows by Raymond Briggs
BOOKING SUSPENDED
2nd – 11th April 2020
Tragicomic play about love and nuclear war, based on the film by the writer of The Snowman. Set in the 80s under the shadow of the bomb, Jim and Hilda Bloggs do their best to follow official government advice to protect themselves and survive the coming tribulation. This two-hander is set entirely in the Bloggs' country cottage over the bucolic days before and in the aftermath of the nuclear apocalypse.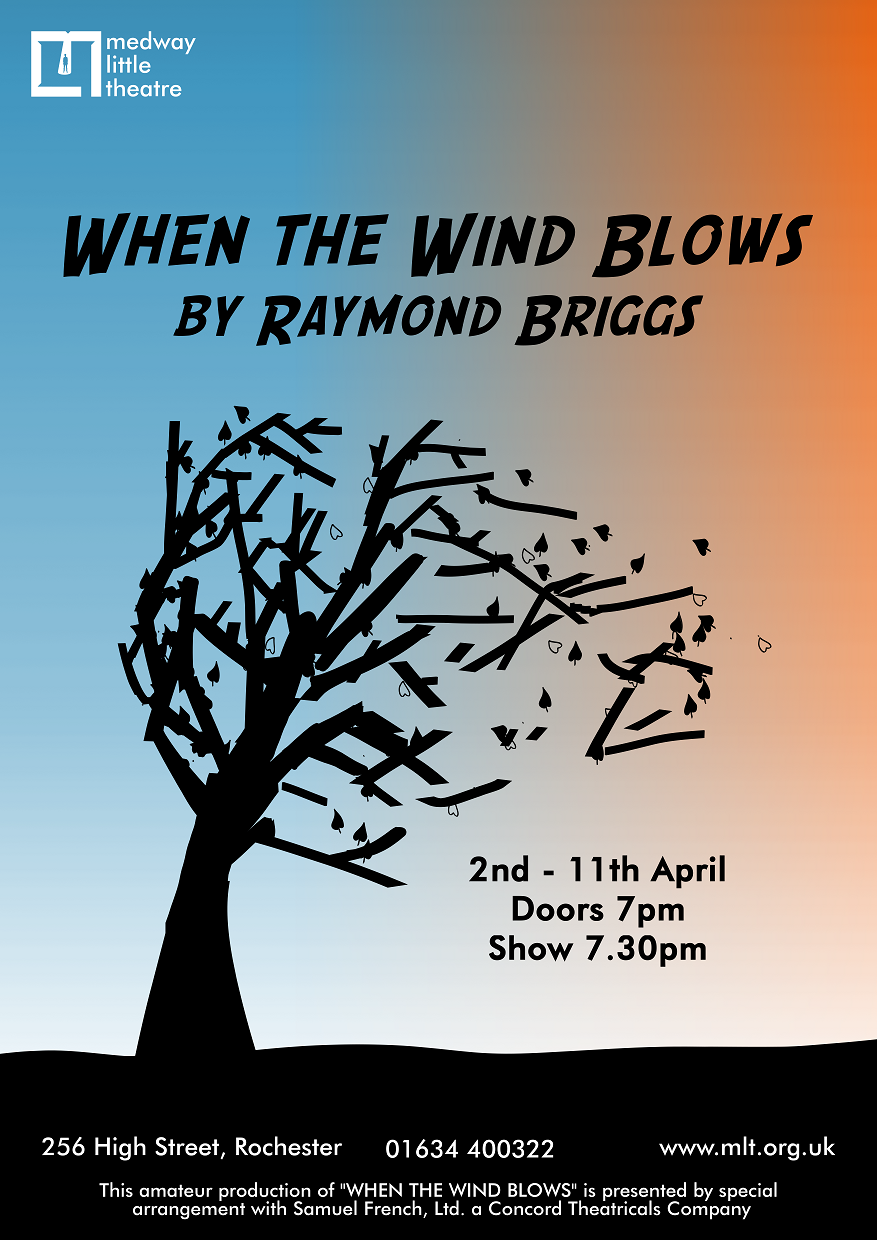 ---
Audition Notice: Hamlet
Performance dates: 16-27 June

Audition dates: Tuesday 25 February, Tuesday 3 March, 8pm, Copley Room
If you would like to audition, but cannot make these dates, please ring Michael Bath on 01634 402598
This famous revenge tragedy is often regarded as Shakespeare's finest play; and it has never before been performed on our stage. Some parts may be cast gender-blind and there will probably be some doubling. The original script is five hours long so, as in most productions, the play has been shortened and is expected to finish at around 10pm.
Characters
HAMLET is highly intelligent and quick-witted, but put under great strain after his father's ghost reveals that he was murdered by Claudius. At first Hamlet intends to "sweep to my revenge", but realises he cannot be sure the Ghost really was that of his Father. He pretends to be mad to draw attention away from his actions, which eventually create havoc. By the end of the play though, he learns to accept his destiny. Aged 30. Has a sword-fight scene.
KING CLAUDIUS appears to be a consummate politician, but is hiding his crime under smiles and courteous behaviour. At first he does his best to cope with Hamlet, but becomes increasingly suspicious and eventually arranges his murder. Claudius is however genuinely in love with...
QUEEN GERTRUDE who has been seduced by Claudius. Clearly it is a love match, at least until Hamlet persuades her to distance herself from him. After that, her whole world rapidly falls apart. A loving mother and often astute, she nevertheless finds Hamlet difficult to deal with.
POLONIUS effectively runs the country under Claudius. Hamlet sees him as a 'tedious old fool' and indeed he can be long-winded, conventional and addicted to spying; but the King and Queen trust the 'good old man' and are devastated when Hamlet kills him, mistaking him for Claudius.
OPHELIA, a young woman, Polonius's daughter and Hamlet's lover. Charming, trusting and innocent, her downfall comes after her father tells her not to see Hamlet any more, adding to his distress and causing the breakdown of their relationship. In a highly effective scene, she goes mad because Hamlet has killed her father. Some singing.
LAERTES, her brother, is Hamlet's opposite: a fiery man of action demanding revenge even before he knows how his father died; not a great thinker and easily manipulated by the wily Claudius. Has several emotional scenes and a sword-fight.
HORATIO, a scholar and Hamlet's closest friend, reliable, loyal and tactful, but sometimes privately horrified by Hamlet's actions. At the start of the play, he is persuaded by soldiers to witness the appearance of the Ghost of Hamlet's Father; and he decides to tell Hamlet about him.
THE GHOST will be a disembodied voice, coming from the auditorium.
ROSENCRANTZ and GUILDENSTERN, childhood friends of Hamlet's who are drafted in by the King and Queen to spy on him. They are however, pretty awful at the job and Hamlet easily sees through them.
MARCELLUS and BERNARDO, soldiers who see the ghost and alert Horatio.
PLAYER KING, QUEEN, MURDERER and SINGER, actors who are conned by Hamlet into presenting a play that will offend the Royal couple.
GRAVEDIGGER, a bit ignorant - but knowledgeable about his own trade. Hands Hamlet Yorick's famous skull. Has an accent. One scene.
Smaller parts: OSRIC, a foppish courtier; REYNALDO, Polonius's servant; a PRIEST; another servant and another soldier, FRANCISCO.
---
Now Booking: In Love With Shakespeare
13th – 15th February 2020
Medway Little Theatre's Youth Company bring some love into our lives for Valentine's weekend with romances from William Shakespeare. For the occasion, the MLT stage sets the scene for three of the finest of the bard's love-filled stories: the tragic romance of Romeo & Juliet, the feisty battle between sexes in The Taming of the Shrew and the playful misdirection of cupid's arrow in a 1950s version of Much Ado About Nothing.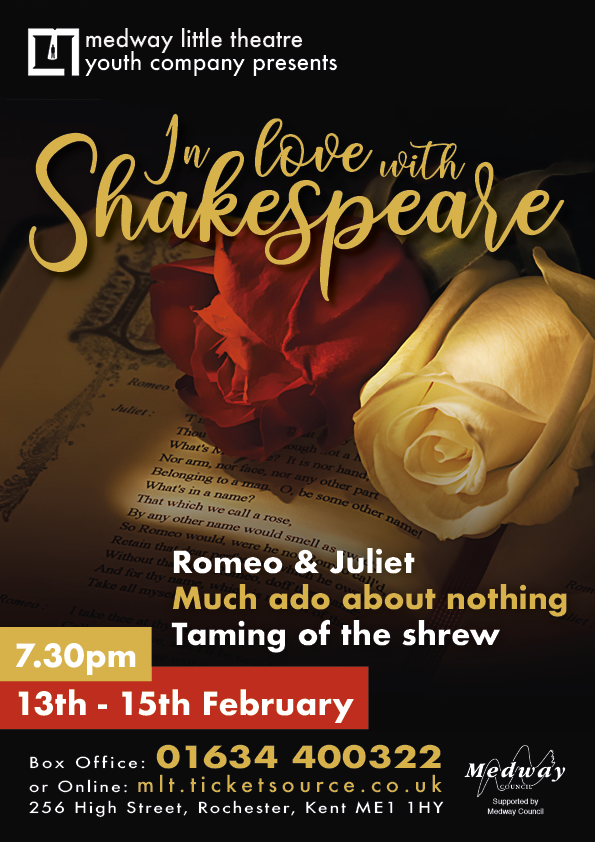 ---
Audition Notice: When the Wind Blows by Raymond Briggs
8pm, Copley Room, 7th, 8th & 14th January 2020
Members are invited to come and audition for this brilliant play about a retired couple facing nuclear disaster.
Playing dates: 2nd-11th April 2020
Jim Bloggs - practical, retired man who adores his wife
Hilda Bloggs - retired woman who thinks Jim can be a bit silly sometimes
Check out the trailer for the film version here.
---
Now Booking: Wild Goose Chase by Derek Benfield
23rd January – 1st February 2020
The Elroods' dilapidated country pile with its full complement of eccentric aristocrats, lovers and maids is invaded by photographer Chester Dreadnought, jewel thieves Capone and Wedgewood, a crazy relic hunter and, inevitably, the police. The myriad doors into and out of the baronial hall in which it is set and cases of mistaken identity make the chaotic farce that ensues unavoidable.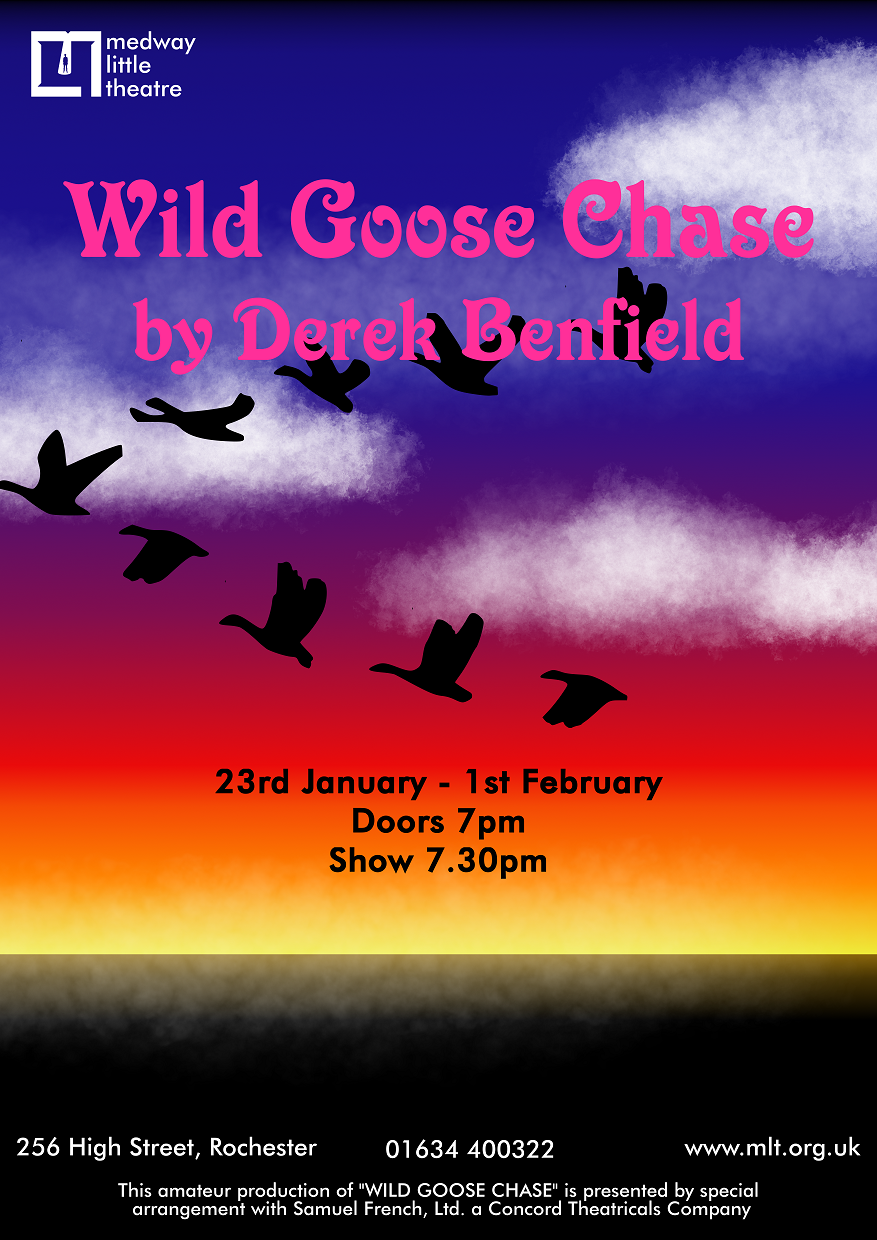 ---
Now Booking: Dangerous Obsession by N J Crisp
5th – 14th December 2019
Thriller set in the modern, luxurious home of the security-conscious Sally and Mark Driscoll. Sally is visited by a man claiming to be an old acquaintance, and she tries to recall who he is and where they may have met. When her husband comes home it seems he is the one the man wants to see. Twisting and turning, surprise and suspense are the order of the day. Expect the unexpected!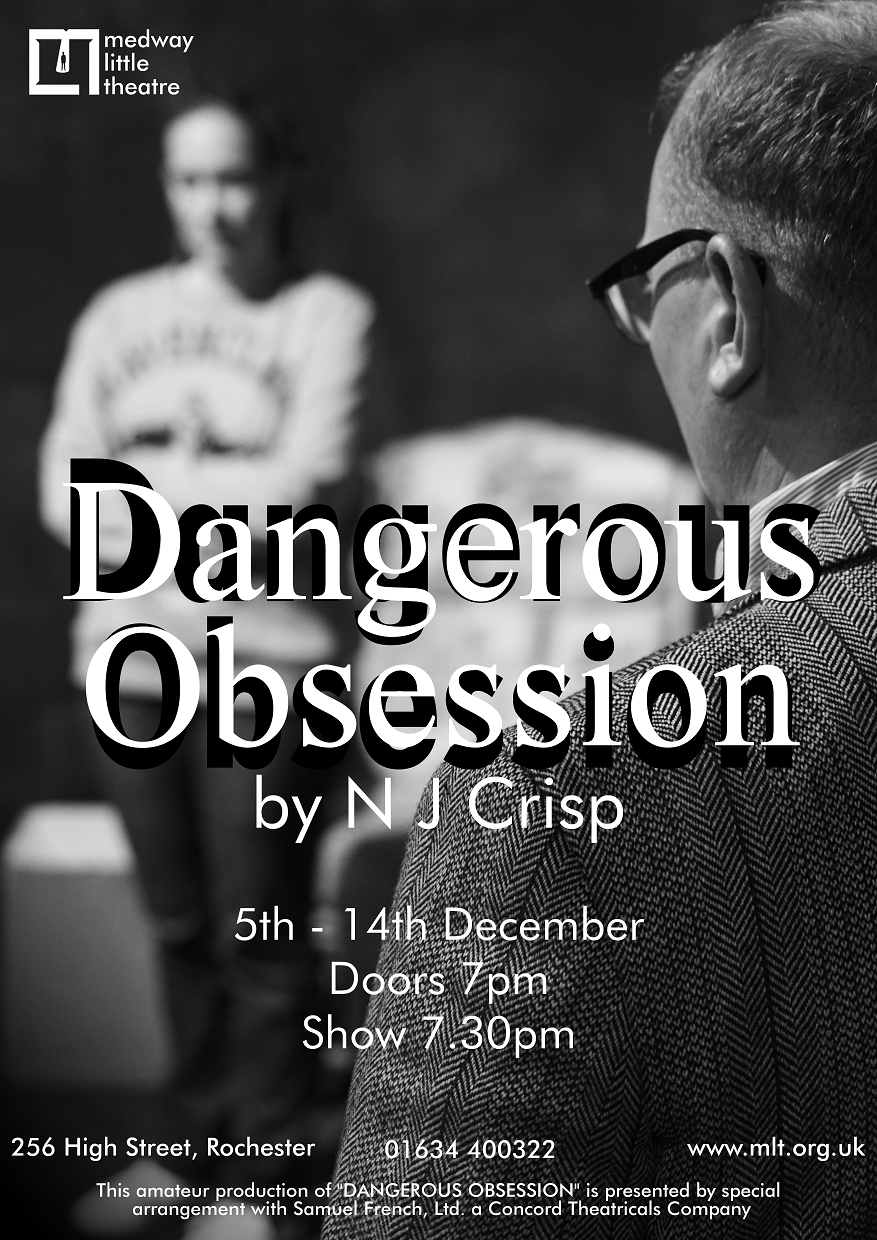 ---
Now Booking: Blithe Spirit by Noël Coward
3rd – 12th October 2019
Supernatural comedy, written in 1941 to cheer up wartime Britain and which set a record for performances in the West End not beaten until 1957 by The Mousetrap. This perennial favourite has eccentric medium Madame Arcati invited to Charles Condomine's villa on the Kent coast in order to conduct a séance as research for his new novel. Events do not transpire as planned.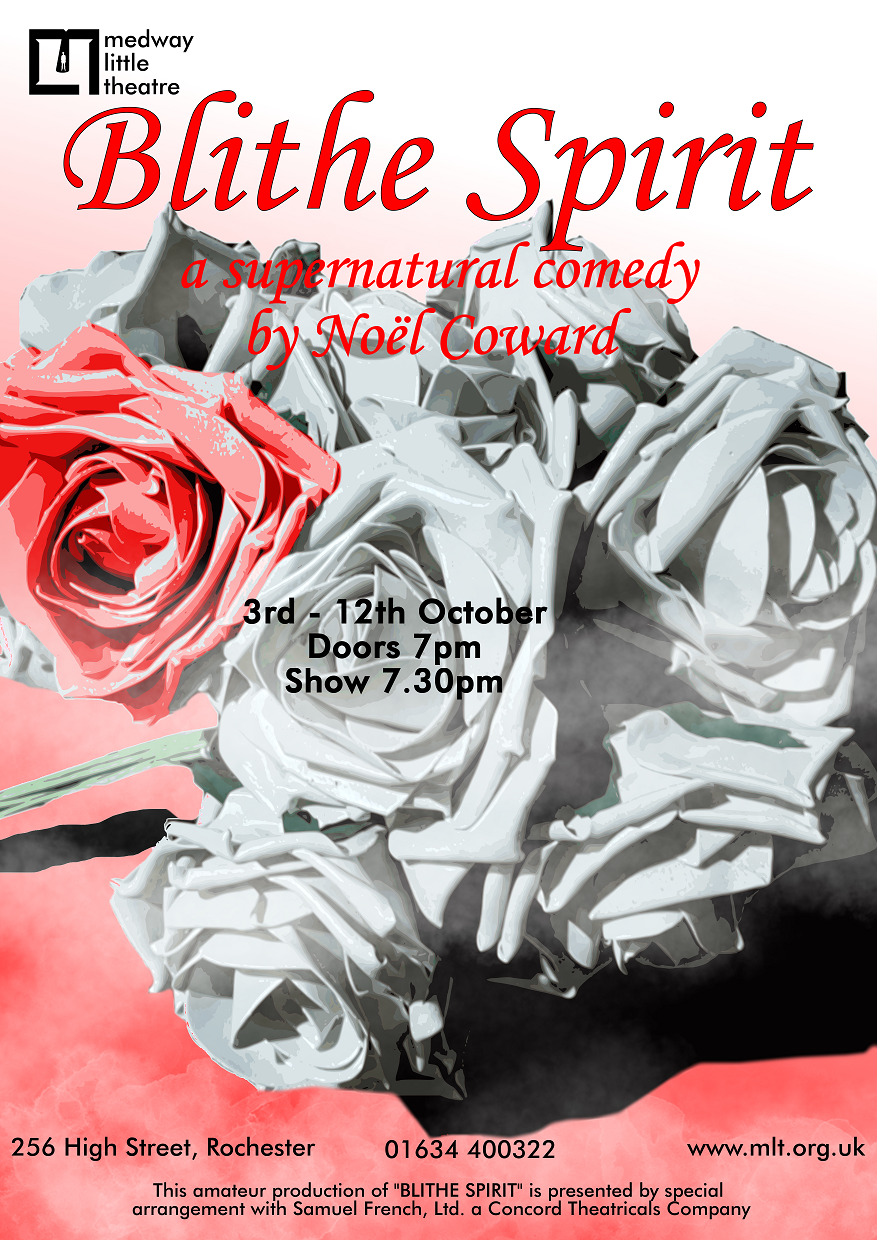 ---
Audition Notice: Wild Goose Chase
Friday 23 August 2019
Audition dates: Tuesday 24th & Wednesday 25th September 8pm - Medway Little Theatre
Playing dates (incl. Charity nights) Tuesday 21st January 2020 to Saturday 1st February 2020
Download the audition notice for more details.
---
Audition Notice: Dangerous Obsession
Friday 26 July 2019
Extra audition date: Thursday 5th September 8pm - Medway Little Theatre
Playing dates (incl. Charity nights) Tuesday 3rd to Saturday 14th December 2019
Download the audition notice for more details.
---
Audition Notice: Blithe Spirit
Saturday 29 June 2019
Audition dates: Tuesday 2nd July, Wednesday 3rd July & Monday 8th July 2019 8pm - Medway Little Theatre
Playing dates (incl. Charity nights) Tuesday 1st to Saturday 12th October 2019
Download the audition notice for more details.
---
62nd Season Announcement
Wednesday, 27 June 2019
After much deliberation and a successful annoucement evening, we are pleased to announce the coming 2019/2020 season. If you are interested in appearing in any of these shows or helping out in any capacity, please stay tuned for announcements on this website and through your members' email notices.
---
Duncan Rand One-Act Play Festival Schedule
Tuesday, 18 June 2019
Please see below for the schedules for the adult and youth sections of our one-act play festival which runs from 6th - 20th July. These timetables show the dates and times of the various entrants' technical rehearsals and performances.
Youth (6th - 12th July)
Adult (13th - 20th July)
If you have any questions about the festival please contact Kerrie, the festival secretary.
---
Deathtrap Audition Notice
Tuesday, 5 March 2019
Auditions for Deathtrap by Ira Levin.
Performance Dates June 11th – June 22nd 2019
Deathtrap is an ingeniously constructed thriller by the master playwright Ira Levin. An ageing playwright becomes aware of a sure-fire smash hit written by an unknown writer. He arranges for the younger man to visit his home to discuss the piece but behind the innocent sounding invitation lies a sinister plot.
This is magnificent play that will have audiences on the edge of their seats. The twists and turns of this sensational example of dramatic brilliance are the product of a very clever mind at the top if its game. Deathtrap ran for 1800 performances on Broadway.
Characters:
Sidney Bruhl, age 40-70, American, older writer
Myra Bruhl, age 40-70, American, Sidney's wife
Clifford Anderson, age 25-40, American, younger writer
Helga ten Dorp, age 30-70, Dutch, mystic
Porter Milgrim, age 40-70, American, solicitor
Ages are approximate
Auditions will be held at Medway Little Theatre on Tuesday 19th March, Thursday 21st March, Tuesday 26th March at 8pm.
If you can't make any of the above dates or would like to read the script, contact Del on 07966217799
---
The Railway Children
Monday, 11 February 2019
The Railway Children, by E. Nesbit
Youth Company Production
28th February – 2nd March 2019
Set in and around a country railway station at the turn of the twentieth century, the plight of the railway children grappling with their new environment is imaginatively brought to life for a modern audience while losing nothing of the original spirit of humour, adventure and the final triumph of good over evil.
Book tickets now or view the rest of our current season.
---
A Murder Is Announced
Thurdsay, December 25, 2018
A Murder Is Announced by Agatha Christie, adapted by Leslie Darbon
24th January – 2nd February
Doors 7pm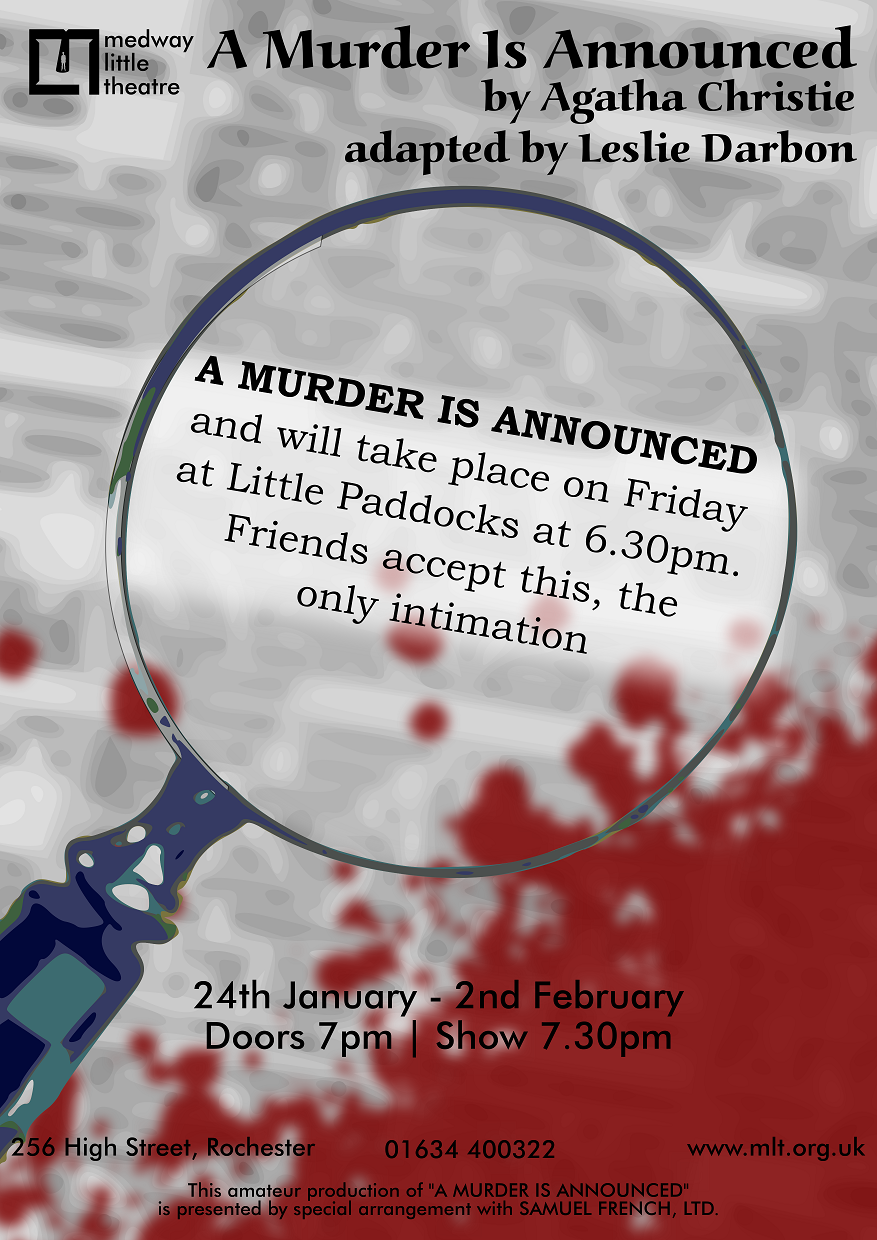 Medway Little Theatre is pleased to welcome Agatha Christie's Miss Marple to the stage in their next production, A Murder is Announced.
An announcement in the local paper states the time and place when a murder is to occur in Miss Blacklock's Victorian house. The victim is not one of the house's several occupants, but an unexpected and unknown visitor. A classic Christie puzzle of mixed motives and concealed identities follows. Luckily, Miss Marple is on hand to provide the final solution at no uncertain risk to herself.
---
Relatively Speaking
Tuesday, October 23, 2018
Relatively Speaking by Alan Ayckbourn
6th – 15th December 2018
Doors 7pm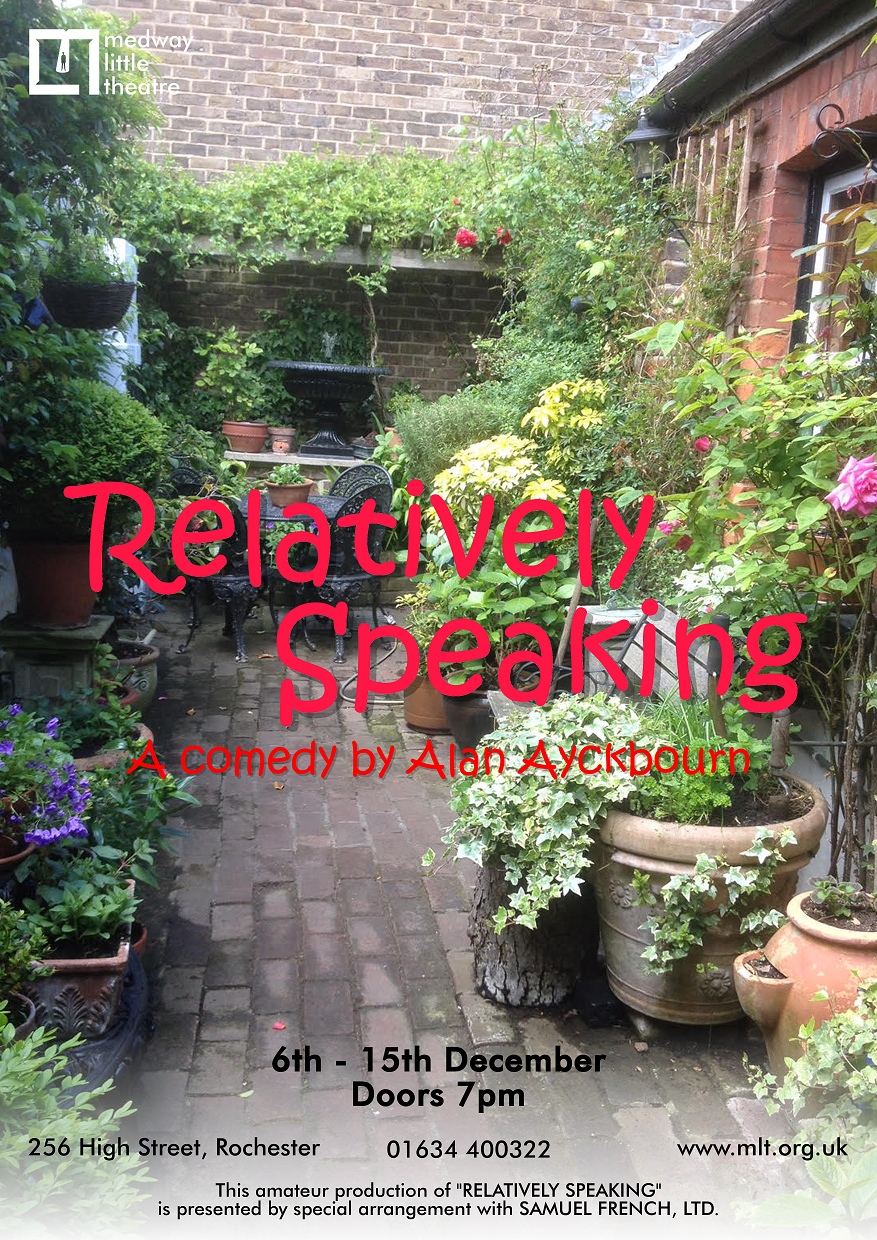 When Greg becomes somewhat suspicious that he is not the only man in his girlfriend Ginny's life. He wonders about Ginny's plan 'to visit her parents' and decides to follow her. Ginny is really going to see a considerably older lover, but only in order to break with him. Greg mistakes the ex-lover and his wife for Ginny's parents. Ginny's arrival further compounds an already wildly hilarious situation!
---
Audition Notice - Relatively Speaking
Sunday, August 19, 2018
Performances: Tuesday 4th-Saturday 15th December 2018
Auditions: Tuesday 28 August & Tuesday 4th September 8pm Copley Room
Please see here for more information.
---
The Beauty Queen of Leenane
Monday, September 24, 2018
The Beauty Queen of Leenane
by Martin McDonagh
4th – 13th October
Doors 7pm
Please see here for more information.
---
The Duncan Rand One-Act Play Festival 2018
Thursday, May 10, 2018
Youth Section 9th-13th July
Adult Section 16th-21st July
I am writing to invite you to enter this year's Duncan Rand Festival. We expect the festival to run as shown above, but the actual start date will depend on the number of entries. The adult finals night will be on Saturday 21st July and we will work back from that date.
Please don't hesitate to contact us at mltduncanrand@outlook.com with any questions, and please pass on our invitation to anyone you think would be interested in taking part.
Kerrie Thompson
Festival Secretary
Mobile: 07976 819759 (after 6pm weekdays)
---
Audition Notice - The Beauty Queen of Leenane
Thursday, May 3, 2018
Performances: Tuesday 2nd-Saturday 13th October 2018
Auditions: Tuesday 22 May 8pm Copley Room
Please see here for more information.
---
2018/2019 Season Announcement
Tuesday, April 24, 2018
After months of deliberation by our production committee, we are delighted to announce the plays chosen for our next season! Read the season announcement here.
If you are interested in getting involved, please come down to our next club night on Tuesday from 8pm for a drink and a chat.
If you simply enjoy watching our productions then we hope you are excited about what is to come!
In the meantime, book now for the remaining productions of our current season: the Ira Levin thriller Veronica's Room and the smash-hit farce One Man Two Guvnors.
---
Lights and Sound!
Tuesday, December 27, 2016
We are looking for, and happy to train up, any one who fancies being part of the technical team providing lights and sound for each of our plays.
If this might interest you please get in touch. Full training given!
---
Gibraltar Drama Festival 2016
Sunday, April 3, 2016
Medway Little Theatre Youth Company returned from an exciting visit to participate in the Gibraltar Drama Festival with two lovely shiny trophies, new friends and a tan!
The group left on the Thursday 17th at 3am in the bitter cold, arrived at 11 am into warm sunshine. We dropped off our luggage at the Emile Hostel and headed out to Inces Hall to meet Tanya Santini of the cultural office for a whistle stop tour and a rehearsal on the stage.
Luke, Celia, Kairn and Derek went to work sorting out our set pieces (with thanks to Christian Santos from GAMPA for the loan of their set pieces!) and technical bits whilst Rosie and Kerrie got on with the rehearsal. We went to watch the evening's performances, some great theatre from Bayside and Westside Drama group and Dramatis Personae before heading back for some well-deserved sleep! On Friday 18th , after a dress technical during the day, our team did a sterling job entertaining the audience at Inces Hall with 'A Point of Law', and received a positive adjudication from Paul Mills who commented that 'Young actors played mature characters well' and 'crisp, efficient delivery of the story'.
On Saturday the team participated in a Drama workshop with Gibraltarian students facilitated by Julian Felice at the Bayside school on Saturday morning, then followed up with some sight seeing on a Rock Tour.
The Gala night saw Lana Ballantyne win Best Young Actress Award and Rosie Stannard winning Best Supporting Actress.
---
Set Design and Set Builders wanted!
Friday, October 16, 2015
If you can wield a screwdriver, a paintbrush or even make a good cup of tea please volunteer to help with our set building.
Each show needs one created and taken down again after – so we need a few hands to assist.
If you are interested in being part of the team that make this all possible then please get in touch.