Previous News
---
The Railway Children
Monday, 11 February 2019
The Railway Children, by E. Nesbit
Youth Company Production
28th February – 2nd March 2019
Set in and around a country railway station at the turn of the twentieth century, the plight of the railway children grappling with their new environment is imaginatively brought to life for a modern audience while losing nothing of the original spirit of humour, adventure and the final triumph of good over evil.
Book tickets now or view the rest of our current season.
---
A Murder Is Announced
Thurdsay, December 25, 2018
A Murder Is Announced by Agatha Christie, adapted by Leslie Darbon
24th January – 2nd February
Doors 7pm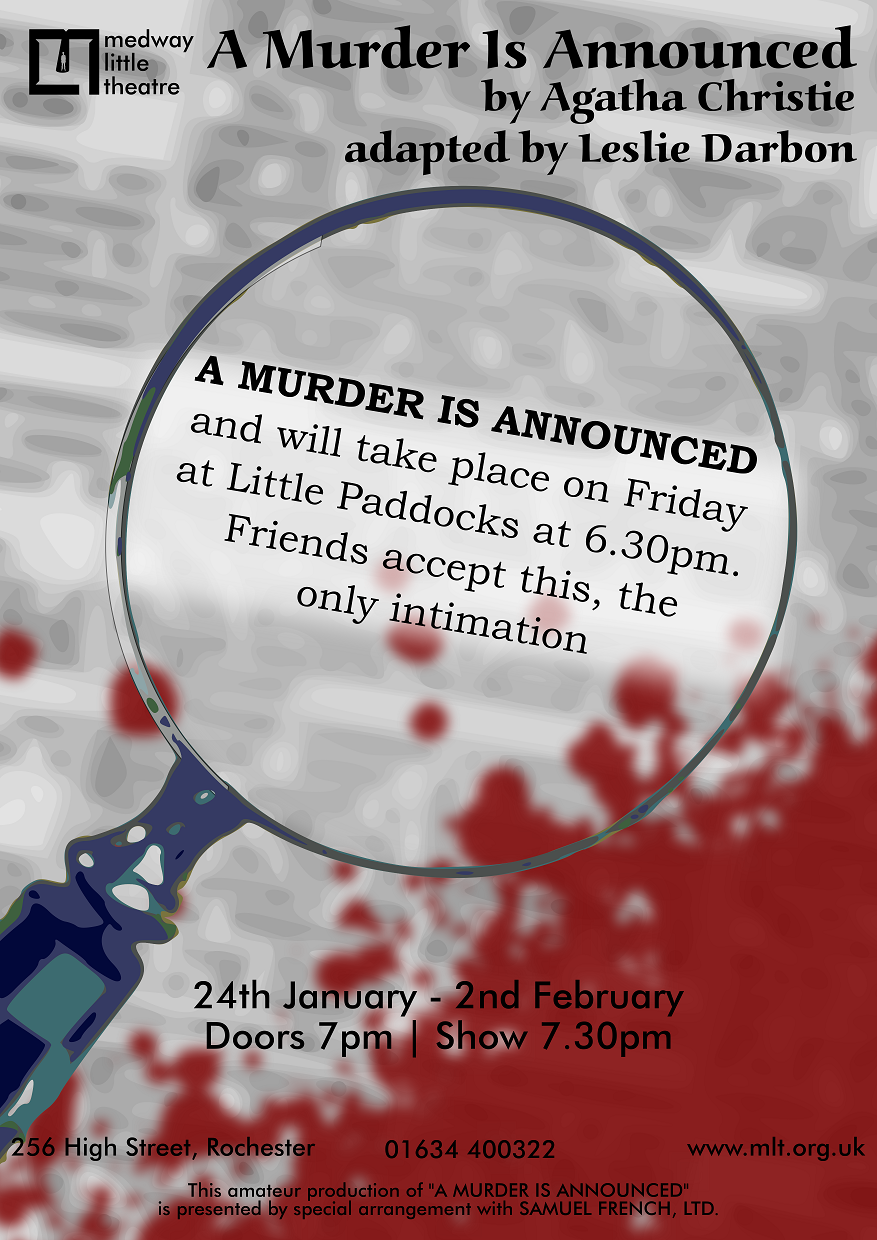 Medway Little Theatre is pleased to welcome Agatha Christie's Miss Marple to the stage in their next production, A Murder is Announced.
An announcement in the local paper states the time and place when a murder is to occur in Miss Blacklock's Victorian house. The victim is not one of the house's several occupants, but an unexpected and unknown visitor. A classic Christie puzzle of mixed motives and concealed identities follows. Luckily, Miss Marple is on hand to provide the final solution at no uncertain risk to herself.
---
Relatively Speaking
Tuesday, October 23, 2018
Relatively Speaking by Alan Ayckbourn
6th – 15th December 2018
Doors 7pm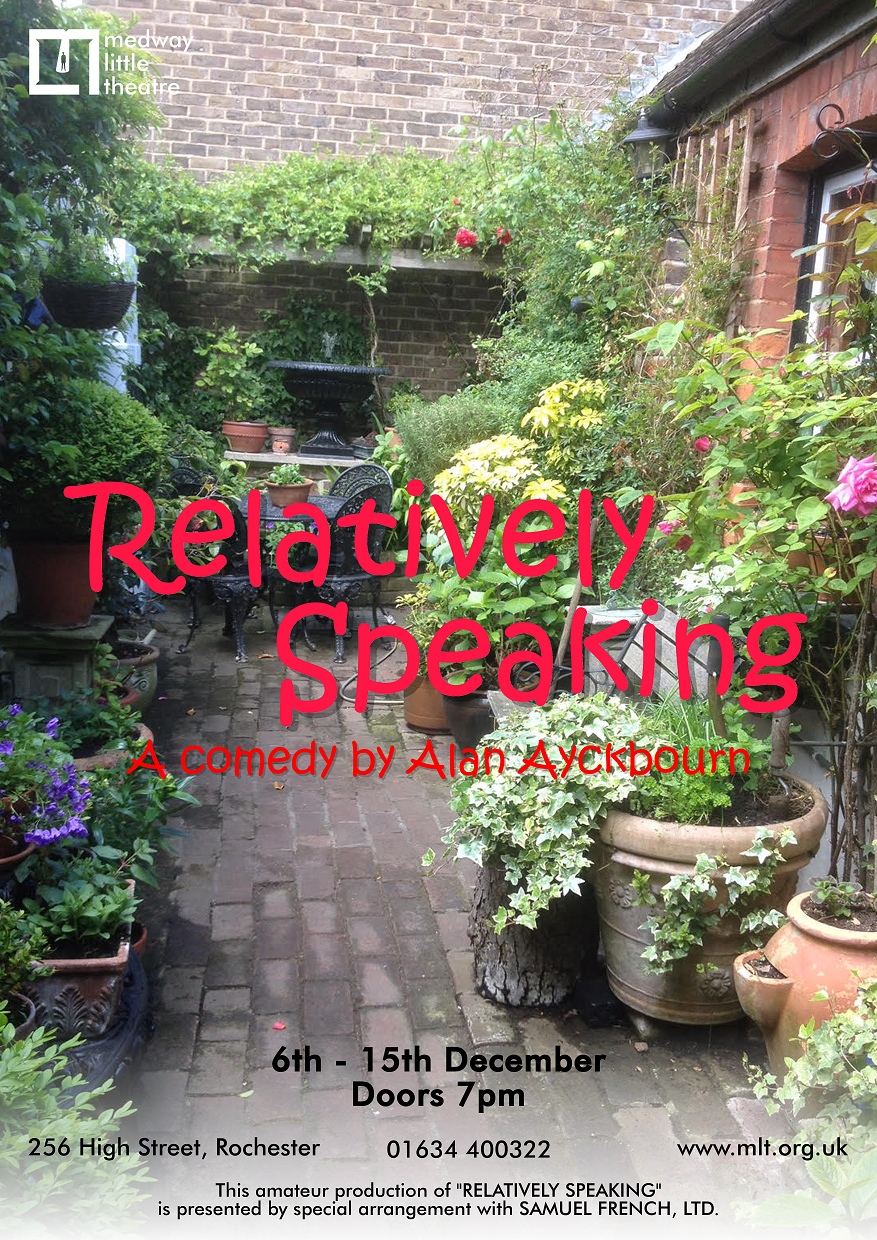 When Greg becomes somewhat suspicious that he is not the only man in his girlfriend Ginny's life. He wonders about Ginny's plan 'to visit her parents' and decides to follow her. Ginny is really going to see a considerably older lover, but only in order to break with him. Greg mistakes the ex-lover and his wife for Ginny's parents. Ginny's arrival further compounds an already wildly hilarious situation!
---
Audition Notice - Relatively Speaking
Sunday, August 19, 2018
Performances: Tuesday 4th-Saturday 15th December 2018
Auditions: Tuesday 28 August & Tuesday 4th September 8pm Copley Room
Please see here for more information.
---
The Beauty Queen of Leenane
Monday, September 24, 2018
The Beauty Queen of Leenane
by Martin McDonagh
4th – 13th October
Doors 7pm
Please see here for more information.
---
The Duncan Rand One-Act Play Festival 2018
Thursday, May 10, 2018
Youth Section 9th-13th July
Adult Section 16th-21st July
I am writing to invite you to enter this year's Duncan Rand Festival. We expect the festival to run as shown above, but the actual start date will depend on the number of entries. The adult finals night will be on Saturday 21st July and we will work back from that date.
Please don't hesitate to contact us at mltduncanrand@outlook.com with any questions, and please pass on our invitation to anyone you think would be interested in taking part.
Kerrie Thompson
Festival Secretary
Mobile: 07976 819759 (after 6pm weekdays)
---
Audition Notice - The Beauty Queen of Leenane
Thursday, May 3, 2018
Performances: Tuesday 2nd-Saturday 13th October 2018
Auditions: Tuesday 22 May 8pm Copley Room
Please see here for more information.
---
2018/2019 Season Announcement
Tuesday, April 24, 2018
After months of deliberation by our production committee, we are delighted to announce the plays chosen for our next season! Read the season announcement here.
If you are interested in getting involved, please come down to our next club night on Tuesday from 8pm for a drink and a chat.
If you simply enjoy watching our productions then we hope you are excited about what is to come!
In the meantime, book now for the remaining productions of our current season: the Ira Levin thriller Veronica's Room and the smash-hit farce One Man Two Guvnors.
---
Mrs Yvonne Pooley
Wednesday, February 28, 2018
Dear friends,
It is with great sadness that I announce the passing of Mrs Yvonne Pooley. Yvonne was a former treasurer of MLTC. As soon as I have further details of the funeral I will let you know. I am sure that her husband George would appreciate your support to say goodbye to such a lovely lady.
Martin Darby
---
Lights and Sound!
Tuesday, December 27, 2016
We are looking for, and happy to train up, any one who fancies being part of the technical team providing lights and sound for each of our plays.
If this might interest you please get in touch. Full training given!
---
Gibraltar Drama Festival 2016
Sunday, April 3, 2016
Medway Little Theatre Youth Company returned from an exciting visit to participate in the Gibraltar Drama Festival with two lovely shiny trophies, new friends and a tan!
The group left on the Thursday 17th at 3am in the bitter cold, arrived at 11 am into warm sunshine. We dropped off our luggage at the Emile Hostel and headed out to Inces Hall to meet Tanya Santini of the cultural office for a whistle stop tour and a rehearsal on the stage.
Luke, Celia, Kairn and Derek went to work sorting out our set pieces (with thanks to Christian Santos from GAMPA for the loan of their set pieces!) and technical bits whilst Rosie and Kerrie got on with the rehearsal. We went to watch the evening's performances, some great theatre from Bayside and Westside Drama group and Dramatis Personae before heading back for some well-deserved sleep! On Friday 18th , after a dress technical during the day, our team did a sterling job entertaining the audience at Inces Hall with 'A Point of Law', and received a positive adjudication from Paul Mills who commented that 'Young actors played mature characters well' and 'crisp, efficient delivery of the story'.
On Saturday the team participated in a Drama workshop with Gibraltarian students facilitated by Julian Felice at the Bayside school on Saturday morning, then followed up with some sight seeing on a Rock Tour.
The Gala night saw Lana Ballantyne win Best Young Actress Award and Rosie Stannard winning Best Supporting Actress.
---
Set Design and Set Builders wanted!
Friday, October 16, 2015
If you can wield a screwdriver, a paintbrush or even make a good cup of tea please volunteer to help with our set building.
Each show needs one created and taken down again after – so we need a few hands to assist.
If you are interested in being part of the team that make this all possible then please get in touch.