The Duncan Rand One-Act Play Festival
The 2021 festival is currently suspended.
---
Information
If you are interested in putting some of your theatre group's work on the MLT stage, then our one-act play festival is a great way to do it.
Entry forms and rules (2020 revision):
If you have any questions regarding the festival, please email Kerrie, the festival secretary.
---
Festival Rules and Conditions
Entry fee is £35.00 for each play entered. This is non-returnable. Your cheque, payable to Medway Little Theatre, plus entry form and adjudicator's copy of the script, must reach the Festival Secretary by 9th May 2020.
Scripts: Photocopied scripts of published plays are not permitted without written permission. Any major cuts/changes must likewise be supported by written permission.
Speaking Parts: Due to requests, we are permitting plays to be entered this year that contain a minimum of two speaking parts as originally written by the Author this year.
'Play' includes a standalone act from a full length play and improvisation as long as a synopsis of scenes is provided.
Running times: minimum 20 minutes, maximum 50 minutes. The festival stage manager may close the curtains on over-running plays at his or her discretion. There will be a point penalty for not meeting the time rule.
Technicians: you should provide your own stage and technical crews. If you are unable to provide these, MLT resident crew will stand in for you but in this case you will not be eligible for technical awards.
'Youth' is defined as 17 years and under. Older people may take part but will not be considered for awards. Please indicate on entry form anyone aged over 18.
Child protection: no one aged 17 or under is permitted to change into or out of costume on MLT premises unless such costume is worn over normal clothes. All children should be licenced to perform. We can licence them on our Body of Persons but will need 15 days to process the paperwork.
Tech rehearsal times will be strictly adhered to. For instance, if two or more entries from the same group have been allocated consecutive rehearsal periods and only one is taken up, it will still be for one hour only. Similarly, you may not under-run one period in order to over-run another.
Conduct of tech rehearsals is included in the assessment for tech awards.
Enter and leave the theatre via the stage door.
Theatre etiquette: you may not enter the auditorium or the wings during the tech rehearsal of another group. Please be as quiet as possible when entering or leaving the theatre.
Royalties: you must provide a licence to perform by your tech rehearsal. No licence equals no performance. This is not negotiable. Also, all music in the production should be licenced. Proof of licence will be required or a levy of £10 per production will be charged for PRS purposes.
Trophies are deemed to be the responsibility of the group, and any loss or damage will be charged to the group. Any returnable trophies from last year should be returned at your tech rehearsal.
Car parking: you may not bring any vehicle on to the gravelled area at the rear of the theatre, loading and unloading must be done from the road. There is adequate public parking close to the theatre for which there is a charge.
---
About the festival
The Duncan Rand Festival is Medway Little Theatre's annual one-act play festival, promoting interaction with fellow enthusiasts from all over Kent and further afield. 2015 marked the 40th anniversary of the festival, which has brought together groups both new and familiar in the spirit of the friendly competition; striving to raise standards, forge friendships and to entertain audience and participants alike.
It is an ideal way to get your group up on stage and for youth or school groups especially, it is a great experience.
Feel free to contact us for more information.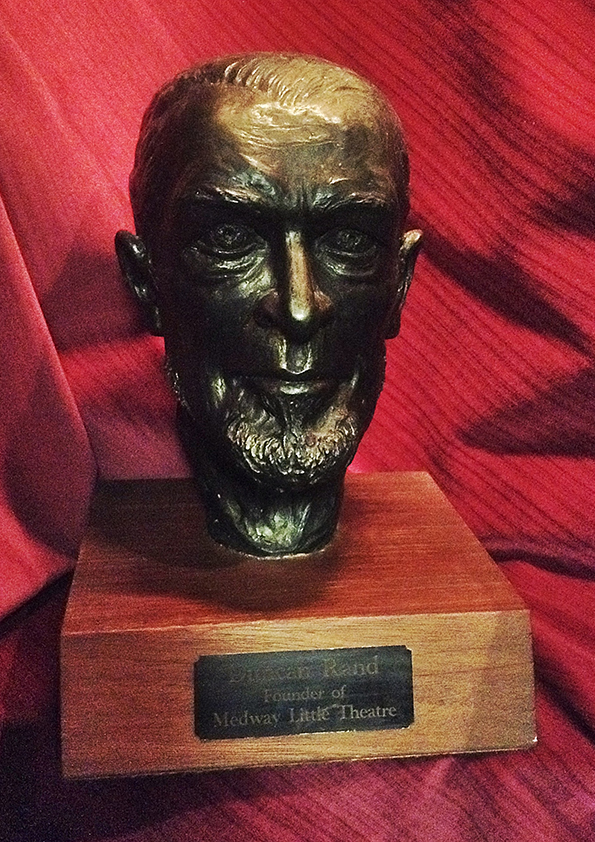 Some 60 years ago, with Duncan Rand at the helm and several other members in hot pursuit and after a lot of effort and against all advice, Medway Little Theatre was launched. 45 years ago, Duncan Rand decided to start a one-act play festival for groups in Kent with the help of Luke Taylor, an experienced hand at organising such events. After Duncan's death in 1981, it was suggested that the festival be named after him as a tribute to his driving force and guiding hand in the development of this theatre, and in memory of a sincere and lovable man.