65th SEASON
---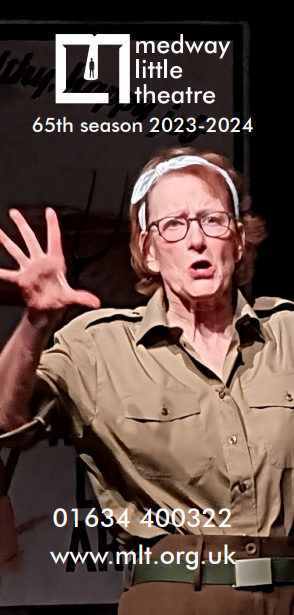 We are proud to present our programme for the coming year. We hope you will enjoy the season, where you will find a play for every taste, from laughs to thrills.
Kodachrome by Adam Szymkowicz
11–14 and 18–21 October 2023
In a small town where everybody knows each other and the pace of life allows the pursuit of love to take up as much space as it needs, the town photographer lets us peek into her neighbours' lives to catch moments of romance in all its stages.
Youth Group
Wendy and Peter Pan by Ella Hickson
9–11 November 2023
Adapted from the novel by JM Barrie, the Royal Shakespeare Company's productions of this play were spectacular sell-outs at the Royal Shakespeare Theatre in 2013 and 2015.
Comfort and Joy by Mike Harding
7–16 December 2023
Christmas. Culinary disasters abound. Long-buried resentments rear their ugly heads as the alcohol flows and tongues are loosened. Comfort and Joy is painfully, but always amusingly, familiar.
The Weir by Conor McPherson
29 January – 3 February 2024
Set in a bar in County Leitrim, The Weir combines chilling tales of the supernatural with the hilarious banter of a small community in the heart of rural Ireland. A spellbinding, beautifully observed hit from the master of suspenseful realism. The Weir is presented by arrangement with Nick Hern Books Ltd.
Youth Group
Our Day Out by Willy Russell
15–17 February 2024
Developed from the 1977 BBC television play , Our Day Out is about students from an inner-city school in Liverpool who go on a trip to Conwy Castle. Mrs Kay teaches a class of illiterate pupils, called the 'Progress Class'. At the very last minute, the disciplinarian Deputy Headteacher, Mr Briggs, also joins.
Children's Workshop
Production TBA
15–16 March 2024
The Hollow Crown by John Barton
17–20 April 2024
The Hollow Crown, devised by John Barton in 1961, presents in dramatic form the British monarchy from William the Conqueror to Queen Victoria, through speeches, documents, gossip and music.
Deep Blue Sea by Terence Rattigan
9–18 May 2024
Set over the course of a day, Deep Blue Sea begins with Hester Collyer being found in her flat by neighbours after she has failed in an attempt to take her own life. By the end of the day, Hester is brought to a hard decision to live, partly through the intercession of another resident of the tenement, Mr. Miller, an ex-doctor, struck off for an undisclosed reason.
Post Horn Gallop by Derek Benfield
10–15 June 2024
A sequel to Wild Goose Chase. In the ancestral home the nerve-shattered Chester is again menaced by his old enemies Capone and Wedgwood. In the flower beds Lord Elrood lurks with his shotgun ready to repel attacks by the butcher's boy, the postman and other desperate characters. Through the living-room wander Maggie and Bert, come for two-and-sixpence-worth of gawp and suitably awestruck by the goings-on of the country house set.
Duncan Rand One—Act Play Festival
1–13 July 2024
The 51st edition of our theatre's famous one-act play festival.
Unless stated otherwise, the licensed amateur productions advertised are presented by special arrangement with Samuel French, Ltd. a Concord Theatricals Company